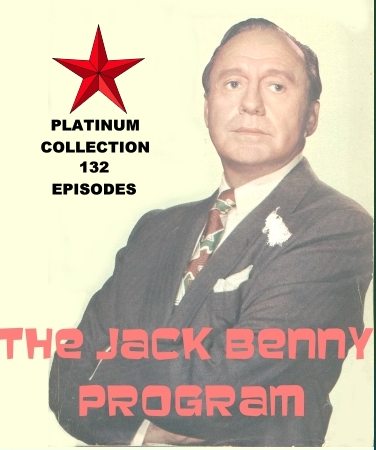 AVAILABLE NOW AT SKARYGUYVIDEO.COM CLICK HERE!
THE JACK BENNY PROGRAM PLATINUM TV COLLECTION
25 DVD SET
132 EPISODES
This premium deluxe DVD collection of the JACK BENNY PROGRAM features 132 complete episodes! Also includes rare bonus films and guest appearances not available anywhere else!
FRED ALLEN SHOW 4/19/53
HUMPHREY BOGART SHOW 10/25/53
JOHNNY RAY SHOW 11/15/53
IRENE DUNN SHOW 12/6/53
LIBERACE SHOW 1/17/54
JACK DREAMS HE'S MARRIED TO MARY 2/7/54
GOLDIE, FIELDS & GLIDE 3/21/54
BURNS & ALLEN GUEST APPEARANCE
JAM SESSION AT JACK'S 10/17/54
HOW JACK FOUND MARY 10/31/54
JACK DOES CHRISTMAS SHOPPING 12/15/57
TALENT SHOW 12/30/56
HONEYMOONERS SHOW 1/26/58
ERNIE KOVACS SHOW 1/25/59
GISELE MACKENZIE (HONG KONG SUIT) 11/6/60
LUNCH COUNTER MURDER 12/4/60
JACK JONES SHOW 1/18/65
KINGSTON TRIO SHOW 1/29/65
SMOTHERS BROTHERS SHOW 4/16/65
BEN BLUE SHOW 1/10/60
MR. & MRS. JIMMY STEWART SHOW 11/15/59
ROCHESTER SLEEPS THROUGH JACK'S SHOW 2/26/56
JACK DRIVES TO PALM SPRINGS 3/11/56
MUSICALE 2/19/61
JACK AT THE SUPERMARKET 1/22/61
JACK HUNTS FOR URANIUM 12/4/55
JACK GOES TO THE CAFETERIA 12/10/61
GHOST TOWN WESTERN 2/11/62
MUSICALE
JACK DRIVES TO PALM SPRINGS
JACK RENEWS HIS DRIVER'S LICENSE 3/24/64
DEATH ROW SKETCH 2/12/61
JACK REFEREES A WRESTLING MATCH 12/11/62
WAYNE NEWTON/LOUIS NYE SHOW 12/4/64
TALL COWBOY SKETCH 10/15/63
DENNIS DAY'S SURPRISE BIRTHDAY PARTY 1/14/62
RIVERBOAT SKETCH 10/8/63
JACK AND THE CRYING CAB DRIVER 12/18/62
HILLBILLY SKETCH 10/30/64
JACK GOES TO THE GYM 2/5/61
JACK PLAYS GOLF 11/26/61
MAIN STREET SHELTER 4/9/61
DON BREAKS HIS LEG 2/4/64
MASSAGE AND DATE WITH GERTRUDE 10/9/55
FRANKIE AVALON SHOW 3/5/63
HOW JACK FOUND DENNIS 2/11/64
JACK GOES TO LAS VEGAS 3/19/61
JACK PLAYS TARZAN 11/13/62
THE LETTERMEN SHOW 3/31/64
THE FIDDLER 1/27/57
AIR FORCE SKETCH 10/16/62
JACK GOES TO A CONCERT 12/11/60
GEORGE JESSEL/AMATEUR SHOW 12/24/63
DON INVITES GANG TO DINNER 1/15/56
JACK TAKES BEAVERS TO THE FAIR 3/6/55
JACK TAKES A BOAT TO HAWAII 11/26/63
JACK GOES TO AN ALLERGY DOCTOR 4/7/64
BOBBY DARIN SHOW 1/28/64
JACK MEETS MAX BYGRAVES 1/18/63
JACK DIRECTS A FILM 10/29/63
JOHNNY CARSON SHOW 10/22/63
THE FINAL LEBLANC SKETCH 2/18/64
ED SULLIVAN SHOW 11/5/63
PHIL SILVERS SHOW 10/9/62
JACK MEETS A JAPANESE AGENT 11/27/62
JACK MAKES A COMEDY RECORD 10/23/64
LUCILLE BALL SHOW 10/2/64
ANDY WILLIAMS SHOW 10/9/64
PETER LORRE SHOW 1/22/63
JACK JONES SHOW 1/8/65
ROBERT GOULET SHOW 10/1/63
JACK ADOPTS A SON 1/22/65
INCOME TAX SHOW 10/16/64
TENNESEE ERNIE FORD SHOW 11/19/61
JACK IN PARIS 3/24/57
JACK IS FOLLOWED HOME 12/3/61
JACK ON TRIAL FOR MURDER 11/5/61
HOW JACK MET GEORGE BURNS 1/7/64
PETER, PAUL AND MARY SHOW 1/14/64
CONNIE FRANCIS SHOW 2/19/63
ROAD TO NAIROBI 5/23/54
JACK WRITES A SONG 2/17/61
NAT KING COLE SHOW 1/21/64
JULIE LONDON SHOW 3/4/62
VARIETY SHOW 4/2/61
ISAAC STERN BOOSTS JACK'S MORALE 11/6/55
ALEXANDER HAMILTON SHOW 3/11/62
MARY'S MAY COMPANY REUNION 4/7/57
SHOWER OF STARS GALE STORM, WELK
GE THEATRE THE HONEST MAN
SHOWER OF STARTS TME OUT FOR GINGER
BING CROSBY SHOW
BURNS AND ALLEN
LUCY SHOW
BUCK BENNY RIDES AGAIN
EASTER SEAL TELEPARADE OF STARS 1955
RONNIE BURNS SHOW 4/6/58
JACK AND MARY IN ROME 1/13/57
HILLBILLY ACT 4/20/58
JACK TAKES BEAVERS TO THE DENTIST 1/12/58
EDGER BERGEN SHOW 3/22/59
RAILROAD STATION 3/23/58
JACK'S LIFE STORY 12/1/57
HORN BLOWS AT MIDNIGHT 1945
JACK GOES BACK INTO PICTURES 4/1/62
GINGER ROGERS SHOW 11/3/57
MODERN PRISON SKETCH 4/15/62
JACK GOES TO A PASADENA FAN CLUB MEETING 12/13/59
BOB HOPE 11/29/62
BOB HOPE 11/29/62
JACK AT THE RACES 2/9/58
JACK BECOMES A SURGEON 2/26/61
BOB HOPE SHOW 4/23/54
HOLLYWOOD PALACE 2/4/67
CHECKMATE 1/3/62
USO SPECIAL 1958
JACK'S LAST TONIGHT SHOW 1/23/74
JACK'S MAXWELL IS STOLEN 11/18/56
ART LINKLETTER SHOW 10/23/55
JACK GETS ROBBED 11/30/52
DOROTHY SHAY SHOW 11/4/51
GE THEATRE FACE IS FAMILIAR 11/21/54
GE THEATRE THE HONEST MAN
BING CROSBY
4 O'CLOCK IN THE MORNING 2/6/55
HONOLULU TRIP 9/13/53
LAST NEW YEAR'S 12/27/53
LIFE OF JACK BENNY 11/28/54
BEDROOM BURGLAR 1/9/55
BEVERLY HILLS POLICE 11/18/56
HAL MARCH 10/20/57
CASTING FOR TV 1/1/61
JACK RENTS HIS HOUSE 2/5/63
NEW YEAR'S EVE 12/31/61JACK BENNY PROGRAM PLATINUM COLLECTION
$74.99
AVAILABLE NOW AT SKARYGUYVIDEO.COM CLICK HERE!