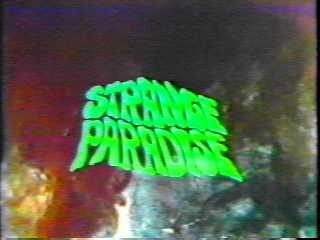 STRANGE PARADISE
Complete Series Available in 7 Volumes - All 195 Episodes
DVD video
Set in an island in the Caribbean, Strange Paradise deals with the story of Jean Paul Desmond, one of the wealthiest men in the world, who makes a pact with the devil to bring his wife back from the dead.
His beautiful sister-in-law, Alison Carr, tries to help him, whilst the mysterious Raxl, housekeeper and Voodoo Priestess, has a war of her own with the evils of Maljardin, the plantation where everything takes place.
Series ran from 1969-1970. Truly strange and bizarre program. For lovers of Dark Shadows!
STRANGE PARADISE AVAILABLE @ SKARYGUYVIDEO.COM CLICK HERE